REFUGEES in AUSTRALIA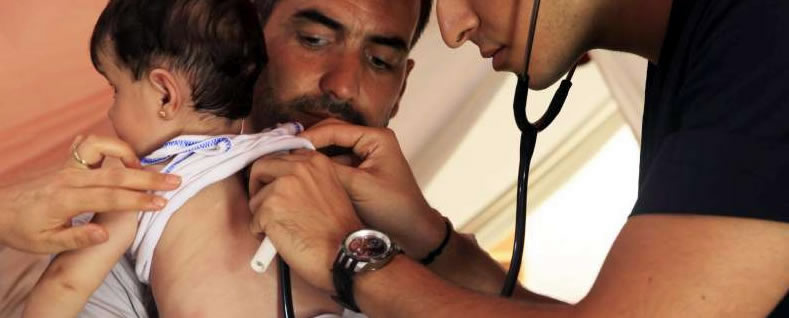 Supporting Refugee health
Partnerships
Optimising Health and Learning Project, Beverley Hills Intensive English Centre (IEC) and South Eastern Sydney Local Health District services.
The Optimising Health and Learning Project links health and education professionals for the purpose of improving refuge access to health services.
The Beverly Hills IEC partnership initiated a nurse-led health-screening program using National Australia Bank (NAB) Schools First Award funding. This partnership between school and health professionals from South Eastern Sydney Local Health District and Sydney Children's Hospital Network utilises the close contacts formed between Intensive English Centres and newly arrived families to assist health professionals in effecting diagnosis and treatment of medical conditions which can impact on student learning.

Refugee students can often have complex health conditions. Students and their parents are often unfamiliar with the health system and are not able to find information in their own language. They often require a considerable level of support to access health services. Associated learning needs may be misunderstood as a lack of interest or engagement but once strategies are in place, opportunities for learning are enhanced.
More information is available at NAB.
Sportslinx, Service for the Treatment and Rehabilitation of Torture and Trauma Survivors
Sportslinx is a sports leadership program for refugee youth that uses sport as a tool to promote individual skills development, healthy lifestyle options and community connectedness.
The program is coordinated with the assistance of volunteer professional coaches and mentors, parents and interested community members so that it can continue to be sustained by the community after the initial start-up phase.
There are three components to the program; an eight-week Sports Clinic held after or during school hours, a Leadership Development Camp and a community planned and managed Sports Gala Day involving all participants in the program.
More information is available at STARTTS.
Tree House Theatre, Tree of Life Theatre and Mentoring Project
Tree of Life Theatre and Mentoring Project is a drama-therapy program that helps young people from refugee backgrounds to share their experiences as part of their healing process. The project is coordinated jointly by a school counselor and a language teacher, and is produced annually.
Students document their stories and work together over a period of months to map their stories and then perform in a professional theatre. Previous participants, trained as mentors, assist with subsequent performances and project activities.
The Tree House Theatre is on Facebook. More information about the directors is available at Getting involved: individuals.