REFUGEE JOURNEYS
Flight
Seeking refuge
Crossing borders
Detention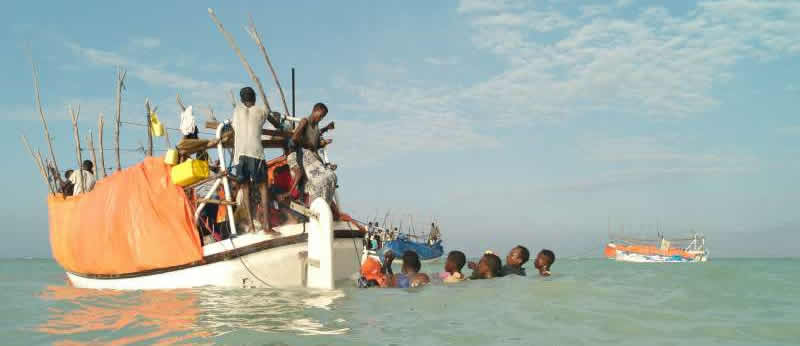 CROSSING BORDERS
Physical journey
An asylum seeker's journey between countries can be long and dangerous.
Countries in Africa, the Middle East, Europe and Asia have many land borders. This means that people can walk or drive to a neighbouring country. Sometimes rivers and/ or mountain ranges create a natural border. Australia, unlike many other countries, has no land borders and is surrounded by oceans.
In many places throughout the world people are able to cross a border without help from anyone else, sometimes even without documentation (such as a passport). In some places people need help with transport to cross borders.
If people seeking refuge are intercepted they may be forced to return to their homeland.
Seeking asylum
The UNHCR works with countries (such as Australia, Canada and the United Kingdom) that have resettlement protection programs in place to find suitable protection solutions for refugees.
When people arrive in Australia as refugees, the process of applying for and being granted protection has usually been initiated in a country of first asylum (offshore). When a person's refugee visa has been granted and they have been offered resettlement, they are usually given a flight and arrive in Australia by plane.
The majority of refugees in the world are unaware that they may be eligible to apply for resettlement in a third country. If they do know about resettlement, it is often difficult for them to access resettlement officers, to find official papers that prove their identities, or to obtain the official forms on which they must apply.
When people are desperate to escape a conflict situation, many will do anything to find safety. Some people resort to paying someone else to help them.
There are many people who transport asylum seekers from one region to another, either on boats, trains or in vehicles, as a business or a way of making money. This is known as 'people movement'. Not all of these transport routes are safe; nor are they necessarily a legal way of crossing borders.
More information
UNHCR - Asylum and migration