REFUGEE SETTLEMENT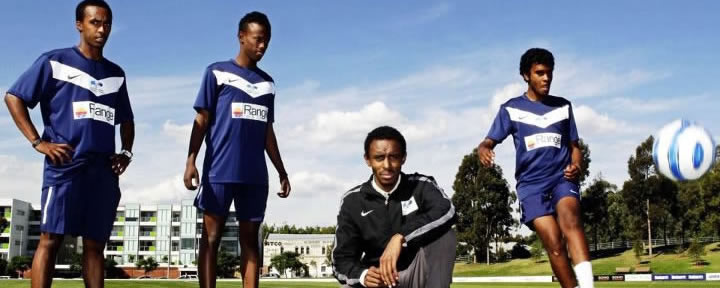 Refugee contributions
Refugees bring amazing strengths, knowledge, wisdom, resilience, and lived histories to their newly settled lives. They are survivors.
Most people who seek refuge in Australia resettle into communities and go on to lead successful and happy lives. People who have escaped conflict situations are often resilient and hard working despite the challenges they have faced during initial settlement.
People from refugee backgrounds bring with them their own skills and capabilities and an eagerness to contribute and give back to the communities who have welcomed them.
Refugees who have come to Australia are a very diverse group. Some have been professionals in their own countries and had a range of vocations and careers. For example, some are teachers, lawyers, nurses, doctors, actors, comedians, artists, hairdressers, social workers, community workers and public servants. People from refugee backgrounds follow a wide variety of education and employment pathways in Australia.
Moving between countries is challenging for many people. It is particularly challenging when arriving without the necessary paperwork to demonstrate evidence of professional or career experience. People who have worked as skilled professionals in their home countries often have to work hard to regain their qualifications and develop experience in Australia in order to continue their careers.
Some well-known people in Australia who have come from a refugee background are:
Anh Do (Comedian/ Author)
Les Murray (Sport - football)
Frank Lowy (Property owner)
Tan Le (Technology)
The Honourable James Spigelman (Law)
Majak Daw (AFL)
Judy Cassab (Artist)
Dr Karl Kruszelnicki (Radio DJ/ Scientist)
Huy Truong (Dot.com manager)
Deng Adut (Criminal Lawyer/ NSW Australian on the Year 2016)
Settlement pathways
Stories from the Refugee Council of Australia » getfacts » international » journeys » stories
Yuol
Yuol was keen to continue supporting newly-arrived refugees. He considered starting his own youth organisation but was too apprehensive to take on the challenge until a youth worker at the Migrant Resource Centre encouraged Yuol to believe in himself.
"I always think that I can't do anything but then I met a youth worker at Blacktown Migrant Resource Centre and she kept saying you can do it. Then I began to think, maybe I can do it."
Refer to the Refugee Council of Australia for Yuol's full story.
Roderick
Roderick settled in Wagga Wagga and secured a job in an abattoir. He now works full-time as a surveyor assistant and auxiliary fire-fighter. Roderick particularly enjoys working with the fire crew whom have helped to make him feel at home in his new country.
"Every time we meet it's a good moment in my life. They are very encouraging, very kind and accepted me. At first I was a little bit reserved but as time progressed, I fit around and jump around, and we're all equally important. It's a proactive job so everyone is participating equally."
Refer to the Refugee Council of Australia for Roderick's full story.
Aduc
Aduc settled in Gosford with her husband and six children. She is employed in a retirement village as a nurse, and also works casually as an interpreter.
"I was a nurse in Sudan and I kept doing that when I went to the refugee camp at a clinic and I was giving medication away. So I continued here and now have Certificate III and want to do Certificate IV… It's good to help people, remind[s] me of back home where I took care of the Lost Boys"
Refer to the Refugee Council of Australia for Aduc's full story.
More information
Read - This is what happened to Australia's 12,000 refugees from Syria and Iraq, SBS News
Life changing decisions make Models of Achievement, University of Western Sydney
Watch - Great Australian Refugees, Sunrise